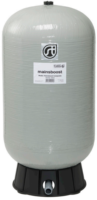 Stuart Turner MainsBoost Composite Water Performance System?
If poor water pressure and flow rates are sending you crazy then this is the solution.
Manufactured from a continuous, durable, composite fibre strand with a sealed epoxy resin to provide immense strength while being lightweight for ease of installation, and is ideally suited to all public building applications where integrity of the water quality is a fundamental requirement.
If you suffer from poor water pressure particularly at peak water demand times which effects the shower flow.
You are fed up of getting into the shower and it turns to a dribble when someone flushes a toilet or turns on a tap.
You want improved performance from your combination boiler or unvented cylinder.
You want real 'power shower performance' without the need for electric pumps.
You want a lightweight easily maneuverable and high tech product for those challenging or difficult locations.
You manage a health care facility, public building or municipal operation.
5 year warranty