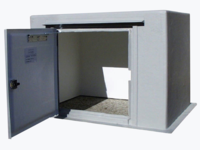 Complete Pump Supplies GRP Enclosures
Are suitable for the protection of a number of items of industrial equipment, including our own Water Tanks, Booster Sets, Water Pumps, there is a housing to suit lots of industrial products, for example Gas, Water and Electricity providers & local authorities along with the Mechanical Building Services Industry and many many more.
General Construction
The range of GRP housings are manufactured from the highest quality materials to withstand the rigours of the harshest weather conditions.
All enclosures have a tough weather resistant polyester gel coat outer, reinforced with a laminate incorporating an encapsulated polyurethane foam core to provide insulation.
Insulation is 25mm thick as standard. This can be increased to a maximum of 100mm for extreme temperature applications.
Internal finish is a durable polyester gel coat finish in white.
Configurations start as small as 800 x 200 x 800mm high, up to infinite size.
Available as one-piece units for smaller applications or in sections in 500mm increments in length and width up to a height of 3 metres.
Door furniture includes stainless steel hinges and fixings, Yale type nightlatch lock assemblies, External door handles, internal door check straps and stays.
Product range
Smaller GRP enclosures are available as a single piece unit which are normally delivered to site palletised and only require fixing down to a structural slab or raised kerbing. Larger enclosures are constructed in a metric modular format and can be assembled for delivery as a single unit or where access restrictions apply, be supplied in sections to allow assembly on site.
Accessories
Encapsulated ply backing boards for electrical components and switchgear.
Tubular heaters and thermostats for frost protection.
Bulkhead lighting c/w switch.
Screened spill over screens to the housing walls to comply with water regulations, backflow prevention.
Factory prepared pad areas to allow for pipework to pass through housing walls.
Single or double door assemblies.
Access manways to housing roof for applications where space restrictions apply.
Please contact us and let us know the size of the GRP housing or enclosure required along with any site specific details, such as access restrictions which may apply and we will be happy to provide a detailed quotation