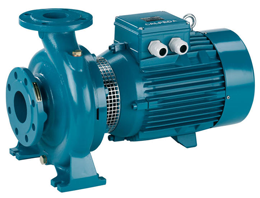 At Complete Pump Supplies, we stock general Single Stage End Suction Pumps capable of performing a wide range of different functions including heating, ventilation, air conditioning, irrigation, industrial liquid transfer and industrial pressure boosting.

Helping to produce cost-efficient supply of their services; all of our Single Stage End Suction Pumps are from manufacturers we trust implicitly. Many of our products can be used in the five main fields of application: Water Supply, Industrial Pressure Boosting, Industrial Liquid Transfer, HVAC, and Irrigation.

Our selection of Single Stage End Suction Centrifugal Pumps have been designed and developed by trusted brands – Calpeda, DAB and Lowara. These manufacturers have developed ranges of pumps best suited to both commercial and domestic properties.

The DAB range of Single stage End Suction Pumps are highly versatile, capable of performing a range of tasks and automatically adapting to various system requirements. The intelligently designed units are capable of diversifying their functionality whilst retaining a consistent and steady output. This helps to ensure a more standardised service is provided. The stainless steel builds are well suited to pumping water without any corrosion or damage caused.

The Lowara range of Single Stage End Suction Pumps are incredible diverse, capable of completing a variety of tasks including: Water Distribution, Rain Water Collection, Industrial Washing Equipment, Pressure Boosting, General Industry, Irrigation, Water Treatment, Cooling and Chilling, Heat Recovery and HVAC.