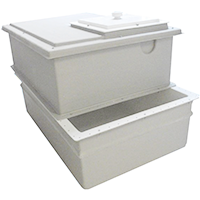 Two Piece Water Tank (Insulated)
Complete Pump Supplies can provide a wide range of Two Piece GRP water tanks. These innovative cold water storage tanks are manufactured from state of the art GRP materials. Low maintenance, long lasting and highly cost effective - these tanks are a fantastic option for a wide range of cold water storage applications.
Particularly suitable for sites with access restrictions, allowing a large tank to be carried through a doorway or similar restriction then assembled once in position. Comprising an upper and lower section of equal height incorparating an external horizontal joint flange allowing the sections to be bolted together on site. All sealant and fixings for the joint flange and an assembly instructions sheet are supplied with the tank.
Provides a cost saving in comparaion to a sectional tank.
Features including:
Fully encapsulated insulation to sides and lid.
A close fittting and sealed lid which removed for maintenance.
CFC free PU foam insulation, which is completely enscapsulated within the GRP laminate.
Structural support where required is provided by rolled hollow section steel with fully welded corner jointing, which is also completely encapsulated within the GRP Laminate.
Tanks storing over 1000 litres nominal have an access manway with removal lid providing a 520 x 520 mm opening. Allowing access for maintenance and inspection.
Applications

Suitable for all cold water applications including:-
Potable and Non Potable water storage.
Process water (including process cooling) applications -150C to +300C.
Provides mains water protection from fluid category 1, 2, 3, & 4 with standard lid arrangement & fluid category when raised float valve housing is fitted.
Our GRP Two Piece Cold Water Storage Tanks are specifically designed and tested to ensure that they meet the stringent requirements set by BS EN 13280:2001 and are fully WRAS approval. Cert No 0809038