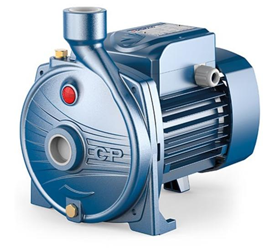 A centrifugal pump is a pump that uses a rotating impeller to create a vacuum in order to move water or other fluids. Typical applications for centrifugal pumps include water pressure boosting (either individually or as part of a set), drawing water, water circulation, as well as being used use in cleaning or firefighting sets, air-conditioning units. They are suitable for domestic, commercial, agricultural or industrial use. Our range can also cater for single or three phase power supplies.
Types of centrifugal pumps
Centrifugal pumps can be classed into several types depending on factors such as design, construction, application, service, compliance with a national or industry standard, etc. Therefore, one specific pump can belong to different groups and at times pump is known by its description itself. Some of these groups have been highlighted below:
Depending on the number of impellers in the pump, pumps can be classified as per the following:
Single stage – A single impeller pump, single stage pump has a simple design and easy maintenance. Ideal for large flow rates and low-pressure installations. They are commonly used in pumping services of high flow and low to moderate TDH (Total Dynamic Head).
Two-stage – This type of pump has two impellers operating side by side which are used for medium head applications.
Multi-stage – pump has three or more impellers in series; for high head service.
At Complete Pump Supplies we can offer a range of manufacturers who provide a variety of Centrifugal pumps for different industry needs. A few leading examples of the manufacturer are Calpeda, Lowara and Pedrollo.
If you need help selecting the right pump for your application please call or email and we will be pleased to help.